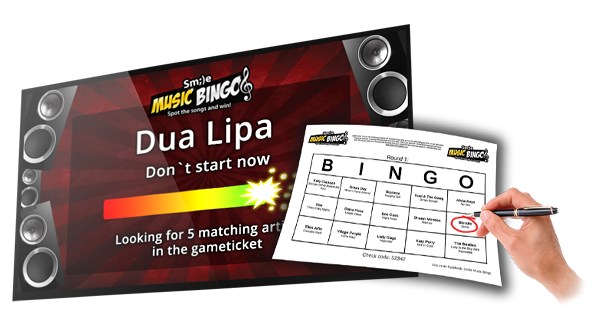 Music Game that people love to play!

 Smile Music Bingo is easy and fun to play

 New music and popular songs added each week

 Play with a computer and show it from your screens

 Play it like a quiz or use tips and make it easy like bingo

 Check bingos automatically with a code

 Interactive and visual game
---
Check out the video!
Smile Music Bingo is perfect if you want to...

 Increase sales and get more customers

 Stand out from your competition (one Pub per area)

 Attract more female customers

 Make your customers come in weekly and stay in longer 

 Appeal to a wide audience, everyone can play!
Want to know the pricing and more?  
---
With Smile Music Bingo you will get:

 Unlimited number of players with the same low cost

  Your logos to the game

  Your own break offers to increase sales 

  Custom marketing material with you logos

  Full training and customer support

  Option to create your own music rounds 
---